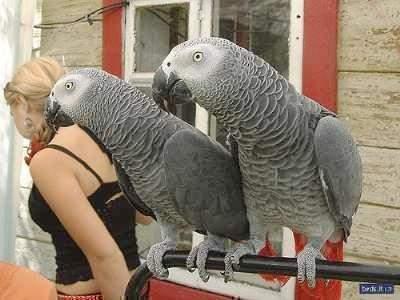 Timneh African Grey for Sale
Timneh African Grey for Sale
All of our African grey parrot available for sale come with an extensive health guarantee: We guarantee that the bird you are acquiring is free from any harmful diseases and does not have excessive amounts of any harmful bacteria. Timneh African Grey for sale here at very moderate prices.
Evaluating our African grey TImneh parrot after purchase is your responsibility; should there be any minor health issues that require treatment, we pay for all medications and all medical treatment at a Veterinarian of our choice. If a Vet exam reveals a life-threatening disease or serious genetic issues, then we will either replace your baby African grey parrot or give you a full refund of the purchase price.
All of the above having been said, we will not nor have we ever sold a bird which we thought was ill. It is for this reason that we offer the above guarantee; you are not required to test your parrot, but if you do, we have a strong guarantee to assure you of a healthy parrot.
We look forward to a long relationship with our customers and their birds. Our goal is to be with you for the next 30-50 years, providing expertise, and advice for your companion parrot. We are experience breeders and we take pride in breeding healthy baby African grey parrot and other parrots species. Timneh African Grey for Sale here cheap.
Timneh African Grey Parrot is one of the best, most loved pet parrots in the world today. Highly intelligent, fun and affectionate, these highly skilled talkers are the jewel of every family and every home. Due to their long lifespan, you will have a lot of time to get to know your pet Timneh properly and fall in love with all the smart talk and goofy tricks. Fun, friendship and good company are guaranteed!
Personality & Behavior
Timneh African Greys can be loved companion parrots, especially with their loving, fun personalities and with their amazing lifespan from 50 and up to 70 years! And, as you will find out, there is so much to love about them. Their antics, mimics and chatty nature, as well as all the goofs and silly tricks they can play on you. Simply put, they are a well of fun, and once a bond is established, they can be quite affectionate and cuddly as well. With such a pet, you will undoubtedly form a lasting and cherished friendship.
The Timneh African Grey can be found through Southern Guinea and on the western edge of the Ivory Coast along the smaller regions. Timneh African Greys have an average lifespan of 50 to 70 years and also possess a highly intelligent and fun-loving personality, same as that of the Congo African Grey. Buy now and get your new pet.
Categories
Uncategorized